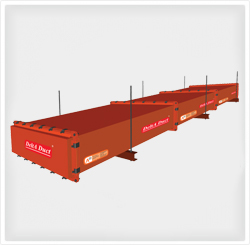 Delta Coated Fire Rated Duct
Delta Coated Fire Rated Duct
Fire Rated Ductwork providing 2 hours Fire resistance when tested to BS 476 Part 24:1987.
Majority of deaths in fire situation are caused by smoke inhalation. Non-fire resisting ductwork system can be responsible for allowing the initial spread of fire between the compartments, and by allowing the rapid spread of smoke.
DFRD System is a coated ductwork system, especially designed for fire rated duct works for Ventilation Fire Ductwork, Smoke Exhaust Ductwork, Car Park Ventilation Ductwork, Kitchen Exhaust Ductwork and Pressurization Ductwork.
DFRD System coating is suitable for the application over the galvanized steel, mild steel and stainless steel rectangular ductwork.
Features:
Steel ducts manufactured as per drawing 30, 31, 32, 33 & 34.
Ducts coated with DFRD system and installed as per installation instruction, will have stability, integrity and insulation as per BS 476 part 24 standard.
Provides fire resistance for 120 minutes in accordance with BS 476 part 24.
Durable and decorative finish.
Easy application and clean up with water.
Coated duct will have the excellent water resistance quality.
Coated duct will have the excellent impact resistance quality.
Coated duct will have the excellent UV resistance quality.
Excellent surface finish.
Lighter in weight comparative to alternate solution.
Considerably cheaper than alternative system.
Maximum aspect ratio for the rectangular duct of the longed side dimension to shorted dimension 4:1.