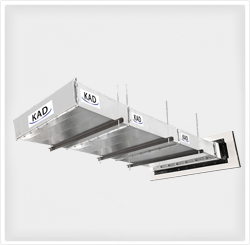 Non-coated Fire Rated Duct
Non-coated Fire Rated Duct
KAD's Non-coated Fire Rated Duct is specially designed fire rated ductwork system without coating.
KAD's Non-coated Fire Rated Ductwork System is approved for,
Mechanical Ventilation System
Car Park Extraction System
Smoke Extraction System
Kitchen Extraction System
Dual Ventilation / Smoke Extraction System
Pressurization Duct
Features:
Steel ducts are manufactured as per KAD's construction schedule.
Ducts are non-coated and needs to be installed as per KAD's installation instruction.
KAD's Non-coated Ductwork System is tested and certified as per BS 476 part 24:1987 for two hour stability and integrity for type A & type B. It is also tested as per EN 1368-1:1 2012 for 2 Hrs. stability & integrity.
Easy to install and economical.